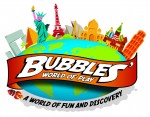 Bubbles' World of Play is pleased to announce that it will be opening its 21,000 sq ft state of the art Childrens's Edutainment Centre in mid March at Marine Point, New Brighton. It will feature the largest play frame in the UK and will cater for 0 – 11 year olds. The play frames are divided into a number of areas, each catering for different age ranges. The New York themed Baby & Toddler Area provides a safe and secure large baby play area, toddler frame and sensory area for ages 0 – 3. There is also a private baby feeding room within the baby area . The Role Play City (comprising of a number of 'businesses' including a vets, café, police station, garage and shop) will cater for 2 – 6 year olds and the larger 5 level frame is designed for children upto the the age of 11.
 Comprising of over 30 different 'countries' and zones split over the 5 levels, each with its own educational content and interactive elements; Bubbles' World of Play will not only provide the best play experience around but one that is both educational and fitness enhancing.
 Grown ups can accompany their younger children onto the frames or sit and relax in our comfortable seating areas enjoying COFFEE REPUBLIC teas and Coffee and high quality food; knowing that their children are safe, secure and happy exploring what is going to be the most innovative play structure in the world. Our extensive CCTV system provides extra peace of mind with adults being able to watch their children on the monitors located around the seating areas. We also offer free WIFI and a number of computer terminals which provide multimedia training courses on varying computer topics (such as Microsoft Office, Email and web browsing).
 For the latest news please sign up to the newsletter on our website www.bubblesworldofplay.co.uk or follow our facebook page.
 Thank you for the fantastic support so far, our very own Panda Bear, Bubbles can't wait to visit New Brighton.
 The Bubbles World of Play Team